Matthew Stringer, Chief Experience Officer at Stridon, considers whether you can strike a happy balance between employee productivity and wellbeing in the future legal workplace
The Strategic Disconnect Between Employee Wellbeing and Productivity Gains
When Briefing recently asked senior IT leaders in mid-sized to large law firms to identify which management or operational drivers resonated most with their senior stakeholders in relation to IT investment, the results make for some interesting reading.
Maximising productivity ranked as the top-scoring priority – 66% of leaders considering it carefully when it comes to deciding where to invest in IT, while employee wellbeing languished in last place at just 11%. However, 35% of firms surveyed for the Briefing/HSBC annual Law firm strategy and investment survey 2021 indicated that 'staff and partner mental health' was a strategic priority.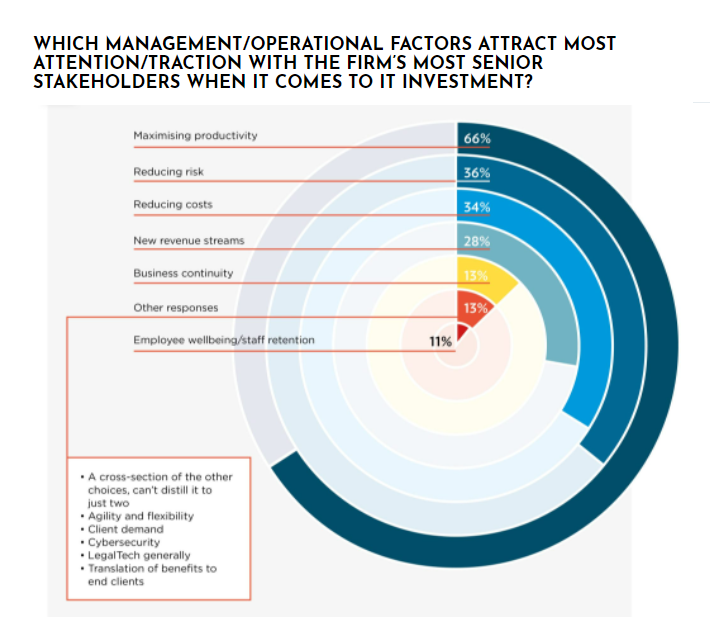 Clearly, there is a disconnect between IT investment decisions and wellbeing, but time and again industry studies show a direct correlation between employee wellbeing and productivity gains, which ultimately translates to enhanced performance and profitability for firms.
We believe that many firms are missing an important opportunity here. Because done right, implementing the right technology in the right way – and putting people at the core of every digital transformation decision – can significantly enhance the performance, resilience and mental and physical wellbeing of employees.
Some forward-thinking firms are now applying insights gleaned from the rapid shift to remote working triggered by the first pandemic lockdown, to rethink how best to improve both individual productivity and wellbeing.  Recently, The Lawyer reported that one candidate for the role of new managing partner at Clifford Chance proposed creating a new position of chief happhttps://www.thelawyer.com/newsiness officer!. Meanwhile, Shoosmiths' HR director spoke at a Briefing Frontiers event about the firm's extensive wellbeing programme for staff.
But while wellbeing may be moving up the agenda, the survey suggests that this priority is not being linked to decisions made about technology.
Technology, Productivity and Wellbeing
Burnout that results in senior and junior lawyers leaving the profession has been a longstanding issue for many law firms. Indeed, according to a survey by the insurance firm Protectivity, the legal profession is the second most stressed profession in Britain, with 63% of respondents reporting they suffer from stress on a daily basis.
However, in some ways the pandemic gave firms a little breathing space – time to reflect, time to try out (very quickly) collaboration tools, and time to finesse their remote working procedures. Having implemented technology in a strategic way, and by making it people-centric, they were able to maintain continuity of service to clients and ensure the future survival of the firm.
Having experienced some of the transformative gains made possible by technology in relation to operational efficiencies, more connected client services, and greater agility within – and beyond – practice walls, a growing number of law firms are now evaluating the role technology could play in supporting a wider holistic strategy designed to enhance employee wellbeing.
Boosting positive wellbeing
We believe technology should make people's lives and jobs easier – whether by simplifying processes, automating mundane tasks, enabling team and cross-team collaboration to speed up decision-making, or making it easy to share ideas and knowledge. Increasingly, boosting workforce capabilities and wellbeing includes giving them the tools to better manage how work is balanced with, and integrated within, our increasingly challenging lives. That can include using apps that prompt employees to take a break, get deeper insight into how we collaborate, or when it's time to disconnect for some well-deserved downtime at the end of the day.
So, what does this look like in practice? Here are our top three recommendations:
Create a technology strategy that encompasses the entire firm
Input should be sourced from stakeholders across the firm, including executive teams, practice groups and administration and business support, to reap the benefits from a consistent strategy, shared practices, common tooling, and any economies of scale. This enables key objectives to be defined across the business that feed into meeting the firms' goals – such as growth, profitability, efficiency and employee wellbeing. With these outcomes in mind, every technology investment can then be appropriately framed and made people-centric.
Replace the mundane with meaningful tasks
Greater automation of mundane processes enables legal professionals to do what satisfies them most: focus on complex problems where they can add the most value. Firms that are ahead of the technological curve stand to reap benefits earlier; their people are happier and more motivated, they gain efficiencies, and clients experience superior service.These kinds of initiatives, however, require a new way of thinking and alterations to governance structures as new routines are introduced and others are reconfigured or dismantled.
Put your existing tools to work
Collaboration tools like Microsoft Teams have made it much easier to bring stakeholders and teams together in one place – ideas can be shared, projects worked on, decisions made faster. They have also made it possible for law firms to adapt workplace practices to fit in with how clients want them to work.
By building on technologies already in place, law firms can finetune the workplace to deliver exactly what people want and need in terms of wellbeing support. For example, Microsoft's new employee experience platform Viva builds on the power of Teams and Microsoft 365 to unify the employee experience across four key areas – engagement, wellbeing, learning and knowledge. As well as helping people to thrive at work, Microsoft Viva delivers the insights managers need to identify when teams are being pushed too hard – they can proactively adjust work norms accordingly.
Rethinking working cultures for lasting change
Technology is not inherently 'good' or 'bad', and as the future of work evolves, law firms that successfully leverage technology to help people achieve both wellbeing and productivity goals are set to reap significant rewards. Alongside preventing burnout, they will have happier and more engaged workforces who are hyper-focused on the task in hand – delighting clients and capturing new opportunities on the horizon.
Read more:
Law Firms: Why Automation is the Key to Working Smarter
Legal Firms: Why People have to be at the centre of Digital Transformation
Securing the Modern Law Firm
Putting People at the Centre of Tech Innovation: What Law Firm Leaders Need to Know
A new Chapter of Change for Law Firms